First, I have to apologize for missing my Monday blog post a couple weeks ago. It was my travel day between Cincinnati (where I'd been at Lori Foster's Reader & Author Get Together) and New York (where I was headed for Book Expo America). In the mix, I forgot. I'm sorry. 🙁
At least I can report that I saw wonderful enthusiasm for books while I was away, from readers and writers and publishers. Despite the states of the industry and economy (or maybe because of them?), the love and commitment to books is alive and well. Optimism was high, deals are being made, and publishers are still excited about selling books. Writers are feeling empowered and there were initiatives I saw in development that will make it even easier to get self-published works in the hands of readers.
The overall mood seemed to be very positive. I spoke to a few college booksellers and librarians who are building popular fiction collections on their campuses, which I think is fabulous. I'm hoping to eventually hear some news about how that's working out. Reading is supposed to fun, convenient, portable entertainment. (I say that while thinking that I'm four books behind on my reading goal for the year. *grr*)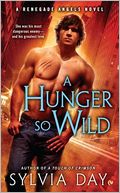 I came home to summer break, so the kids don't have to be chauffeured to school and if I get up early enough, I can still enjoy a few quiet hours of writing time. I'd be ecstatic if it wasn't so damn hot outside! (I can't even think about the year being half gone already…)
My sweet dog, Jesse (easily the sweetest dog ever), had bladder stone surgery last week and is slowly recovering. She's still pretty heavily medicated, but she's eating heartily and seems like she's feeling better than she has in a while. So I get to enjoy some quiet home time with my family before Comic-con rolls around, followed by the Romance Writers of America Conference. Anyone going to either one?
I have ARCS of A Hunger So Wild to give away! Hunger releases July 3rd, so the ARCs really shouldn't be in my possession any longer. They're supposed to be read!
Just leave a comment about your annual reading goals–do you make one?–and summer joys–what do you look forward to most about summer?
Happy Monday!